5 PROFESSIONS - 35 BRANDS
The strategy of the group has always been to value its "brand" capital, unquestionably one of its main strengths at the moment.
PAPER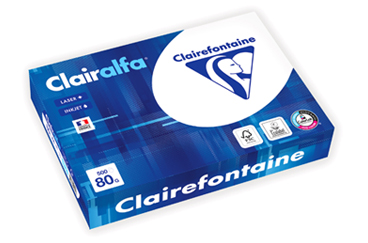 PRINTING AND WRITING PAPERS 4 complementary mills for top range papers : • Clairefontaine papermaking, • Mandeure papermaking, • Everbal papermaking, • Schut Papier.
DESK AND FILING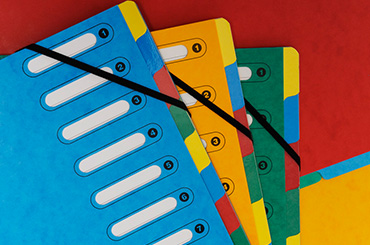 Exacompta, a leading brand in terms of organization and management. This brand provides premium items for professionals, home office and school stationery in order to bring them solutions for the organization and management of their documents. The brand would like to provide efficiency and well being to its consumers, while being an environmentally friendly and irreproachable pioneer.
PAPER SHAPING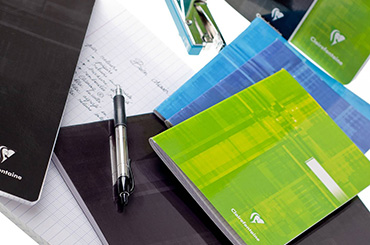 Clairefontaine and Rhodia represent far more than just notebooks. Thanks to Clairefontaine and Rhodia in Alsace and Madly next to Lyons, this department has at its disposal two bases for the conception and distribution of stationery items of international renown, as well as four other production SITES in France and one in Morocco. Since 1951, Clairefontaine is the absolute reference in terms of notebooks and high quality copies, thanks to their unique "velvety" Vélin paper. Each year an advertising campaign addressing public at large, allows the group to maintain a unique notoriety level of nearly 100 % in the opinion of each generation. This range of products is completed by the school notebooks manufactured in Mulhouse, Calligraphe and the items of distribution. The Clairefontaine range of drawing art and leisure paper relies on papers specially manufactured by Schut and has become a reference just like the range of enveloppes and colored cards Pollen. Other brands have joined the department in order to go with its expansion, like for example Rhodia, famous for its orange memo blocks and desk accessories, Decopatch (personalization and decoration of objects thanks to designed papers), Avenue Mandarine (games and educational toys, decoration and other school items The manufacturing of wrapping papers, "textured papers" (crêpe paper and silk paper ) as well as many stationery items and desk accessories S (desk blotters, boxes pencil case, caskets mugs) carried out in-house. Clairefontaine Rhodia has a catalogue of more than 8500 references dedicated to school items artists or teachers. The brand is able to deliver its orders in France the day after they are made thanks to a MODERN LOGISTIC PLATFORM located in Alsace, which allows the MANUFACTURING PAPER DEPARTMENT to be one on the European leaders on several markets.
DIARY & PERSONAL STATIONARY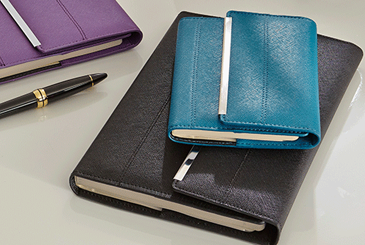 The Group has been able to expand an offer of stationery items for everyday and personal use. Agendas and notebooks are a good example of this development. Quo Vadis just like Rhodia are referent brands which have been able to conquer the heart and habits of numerous consumers in France and the whole World. However, Exacompta Clairefontaine also proposes small brands of high quality specialities in stationary, writing and fine leather goods manufactured by Mignon, Jacques Herbin, G.Lalo or Agenda Moderne.
PHOTO & DIGITAL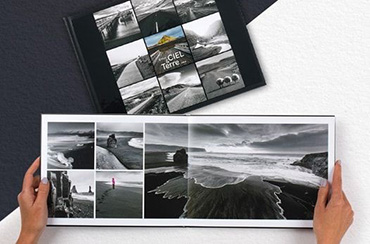 Since 2014, the Group has entered the market of photo printing and customized items on line thanks to the purchase of Photoweb by Lavigne, one of the flagships of the sector. Located near Grenoble, this company, pionner in the field of photo printing on the web, makes and sends every day thousands of orders aiming for the general public (prints, photo books, calendars, posters, pictures on canvas, and other decoration objects) This allows everyone to bring back one's emotions! At the beginning of 2016, Photoweb stenghtens its position in its sector thanks to Invaders Corp, publisher of the application Lalalab, one of the European leaders of photo printing from a mobile phone application.